Show filter
Any questions?
Ask more

Peter Shooter
customer support specialist
+44 330 808 5845
At workdays: 8:00-16:30
info@pepe7.com
GOALIE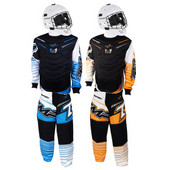 Tempish goalkeeper gear: Quality and Protection combined in a unique design!
Welcome to the goalkeeping equipment category from the renowned brand Tempish, which combines top quality, innovative technology and attractive design for goalkeepers of all levels. With a long history in the field of sports equipment and a passion for the game of floorball, Tempish brings a comprehensive range of products that can protect and enhance the performance of goalkeepers at all levels.
More information