Show filter
Any questions?
Ask more

Peter Shooter
customer support specialist
+44 330 808 5845
At workdays: 8:00-16:30
info@pepe7.com
GOALS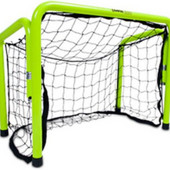 Campus floorball goals from the Salming brand combine quality and durability for a great gaming experience. With a careful emphasis on construction and design, the Campus goal offers reliable play on any court. Not only does it provide high stability thanks to its solid frame, but it also features easy and quick assembly. The safe and precise design ensures that Campus goals are the ideal choice for players of all levels who want to experience the joy and success of floorball. With Campus goals from Salming, you can be sure that your game will be well supported by reliable equipment.
More information