Swanson Calcium Citrate Plus Magnesium
Calcium and magnesium for promoting bone health.
Benefits
Affordable option for promoting bone health - helps build and support strong bones
Promotes energy production and muslce relaxation
Support cardiovascular health
One of the most widely recommended calcium supplements
This special mineral formula features the ideal 2:1 ratio of calcium to magnesium with 150 mg of calcium and 75 mg of magnesium per capsule for optimum benefit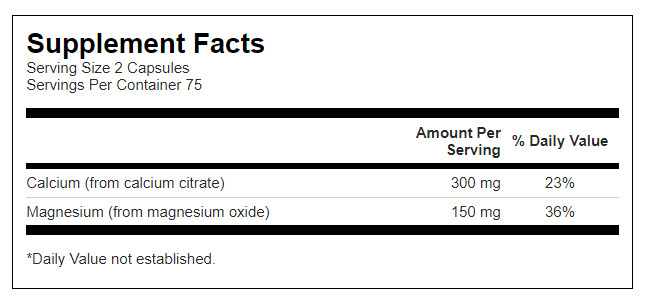 Suggested Use
As a dietary supplement, take two capsules two times per day with water.
Ingredients
Gelatin • Microcrystalline Cellulose (Plant Fiber) • Medium-chain Triglycerides Oil (Palm) • Aspartic Acid • Magnesium Stearate.