Swanson Lactobacillus Gasseri
For a healthy digestive system and better metabolism of fat.
Benefits
Also known as "the fitness probiotic"
Promotes microbial balances
Helps the body regulate levels of leptin, a hormone that plays a key role in energy metabolism and accumulation of fat
Leptin is often called the "satiety hormone" because it controls the sensations of hunger and fullness, reduces appetite and simultaneously improves metabolism
Swanson Probiotics Lactobacillus Gasseri contains 3 billion viable organisms
Key ingredient
Lactobacillus Gasseri - is a lactic acid-producing bacterium, which improves the function and health of the gastrointestinal tract, since lactic acid acts as a kind of natural protection to the gastric mucosa.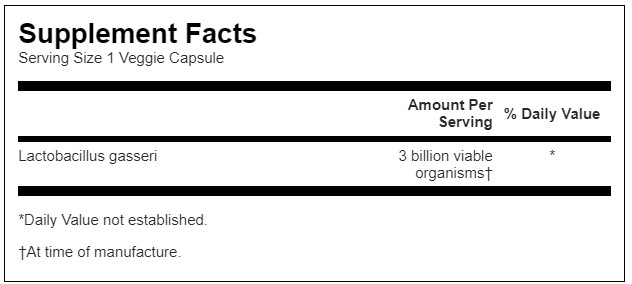 Suggested Use
As a dietary supplement, take one veggie capsule one to two times per day with food and water.
Ingredients
Microcrystalline Cellulose (Plant Fiber) • Hypromellose (Vegetable Capsule) • Silica • Magnesium Stearate.