Swanson Probiotic Complex
Probiotic restores the balance of intestinal flora and improves digestion, such as turning food into energy.
Benefits
A combination of probiotic bacteria for optimum health
Has over four billion viable organisms of five beneficial strains
It also contains FOS (frictooligosaccharides)
Probiotics are "live microbial nutritional supplements", which improve the internal microbial balance
Probiotics restore the normal flora of the digestive tract
The intake of probiotics is very important for the overall health of the body
Probiotics should be taken if you have the following symptoms:

Antibiotic treatment
Frequent intestinal infections and diarrhea
Disturbed peristalsis
Prolonged fatigue
Weakening of the immune system
The need to normalize the normal intestinal flora
Bacterial, viral and fungal infections

Regular reception of probiotic in the form of a dietary supplement, leads to the following benefits:

Maintain and restore the balance of the intestinal flora
Improved digestion
Improve the absorption of nutrient substances
Maintain the level of good bacteria
Improve the body's immune response
Improve the sustainability of human to infections
Improve overall physical and mental state
Improve the digestibility of dairy products
Contribute to the absorption of lactose
Maintains the body in a healthy condition after antibiotics treatment
Contribute to a decrease of bad cholesterol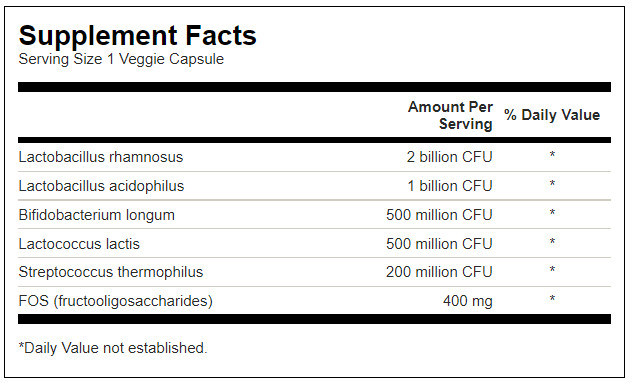 Suggested Use
As a dietary supplement, take one veggie capsule with water in the morning and one at night.
Ingredients
Vegetable Capsule (Hypromellose, Gellan Gum) • Microcrystalline Cellulose (Plant Fiber) • Silica • Magnesium Stearate.