Swanson Zinc Citrate
Great form of zinc for optimum absorption.
Benefits
Supports immune function
Boost antioxidatn activity
Essential nutrient for healthy vision
Zinc is the second most abundant mineral in the human body after iron
Zinc is present in every cell and is an important trace element needed for the health of the immune system, metabolism, digestion, nervous function and many other processes
Zinc deficiency can significantly enhance the risk of bacterial and viral infections
This product´s intake leads to the following benefits:

Consolidates the immune system
Protects the health of the eyes
Supports the health of the heart
Stimulates the memory and concentration
Decreases the risk of viral infections
Decreases the risk of macular degeneration
Stimulates the body´s natural defenses
Decreases the risk of inflammatory diseases
Shortens cold duration
Helps skin healing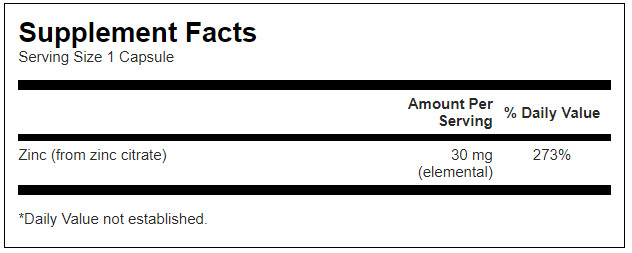 Suggested Use
As a dietary supplement, take one capsule per day with food and water. Taking zinc on an empty stomach may cause stomach upset in some people.
Warning
Do not take this product if you are pregnant or nursing. Consult your healthcare provider before use if you are taking any prescription medications or have a medical condition. Do not exceed recommended dosage. Not recommended for long-term use.
Ingredients
Microcrystalline Cellulose (Plant Fiber) • Gelatin • Magnesium Stearate • Silica.