Swanson Broad-Spectrum Ginger & Turmeric
Traditional herbal tonic used to promote general health and well-being.
Benefits
Beneficial effect on the stomach
Recognized herbs for stomach health and comfort
Traditional herbal combination for overall health
Key ingredient
Ginger - is well known for its ability to calm queasy stomachs and soothe digestion.
Turmeric - is a potent antioxidant.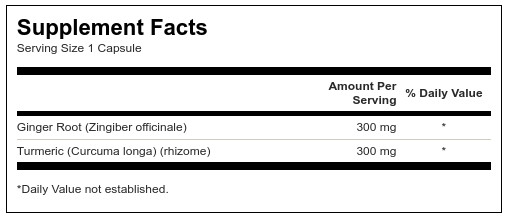 Suggested Use
As a dietary supplement, take one capsule one to two times per day with water.
Warning
For adults only. Consult your healthcare provider before using this or any product if you are pregnant or nursing, taking medication or have a medical condition. Keep out of reach of children. Do not use if seal is broken. Store in a cool, dry place.
Ingredients
Gelatin • Rice Flour • May Contain One Or Both Of The Following: Magnesium Stearate • Silica.