Swanson Synergistic Eye Formula Lutein & Zeaxanthin
Maintain healthy vision with plentiful levels of lutein and zeaxanthin.
Benefits
Contains carotenoids specifically for the eyes
Antioxidants combating eye-damaging free radicals
Benefits of taking this product:

Maintains eye health and protects eyesight
Reduced risk of eye inflammation
Protects the health of the cardiovascular system
Reduces the risk of developing type 2 diabetes
Reduces the risk of developing malignancies
Reduces the risk of developing Alzheimer's disease
Key ingredients
Lutein and zeaxanthin - very powerful antioxidants that protect the body from free radicals. Their greatest strength is improving the eyesight and their ability to protect the eyes from damage.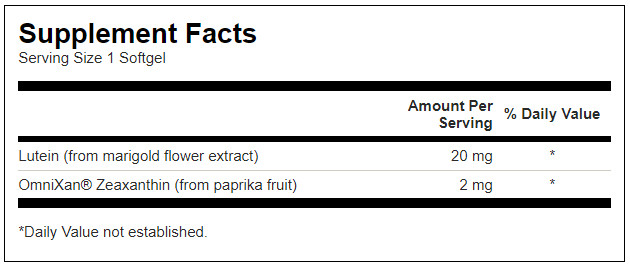 Suggested Use
As a dietary supplement, take one softgel per day with food and water.
Ingredients
Sunflower Oil • Gelatin • Glycerin • Purified Water • Safflower Oil • Natural Tocopherols.