Swanson Indole-3-Carbinol with Resveratrol
Dietary supplement for unprecedented cellular protection.
Benefits
Helps maintain a balance of healthy hormones
Provides 200 mg of phytonutrient I-3-C plus resveratrol
Supports cellular defens
Provides protection against free radical damage
Two of nature's most powerful cellular protectors join forces in one highly effective formula
Key ingredients
Phytonutrient - found in cruciferous vegetables like broccoli and cauliflower.
Indole-3-carbinol (I-3-C) - one of nature's most potent cellular protectors, neutralizing free radicals and promoting healthy cell cycles.
Resveratrol - one of the most powerful antioxidants known to science.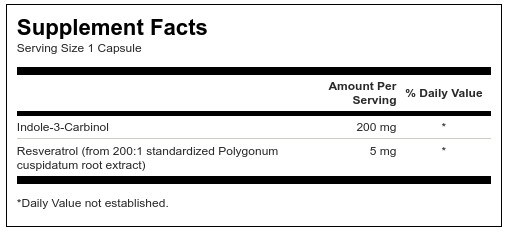 Suggested Use
As a dietary supplement, take one capsule per day with water.
Warning
For adults only. Do not take this product if you are pregnant or nursing. Consult your healthcare provider before use if you are taking any prescription medications or if you have a medical condition. Keep out of reach of children.
Ingredients
Gelatin • Microcrystalline Cellulose (Plant Fiber) • May Contain One Or Both Of The Following: Magnesium Stearate • Silica.
Country of origin
USA
Manufacturer
Swanson Health Products, 4075 40TH Ave S Fargo, ND, 58104-3912, USA