Swanson Gluten Rid with Tolerase G
The enzymatic supplement that helps your digestive system deal with the gluten that gets through.
Benefits
Helps break down the gluten in your gut
Effective enzyme formula
Combats "hidden gluten"
Gluten is a composite of two proteins, gliadin and glutenin, found in wheat and related grains. While most dietary proteins are broken down in the stomach by digestive enzymes, the human body lacks the enzymes necessary to break down gliadin and glutenin completely. Thus some amino acid chains, or peptides, remain intact after gastric digestion, proceeding to the small intestine intact, which can place an uncomfortable burden on the gastrointestinal tract.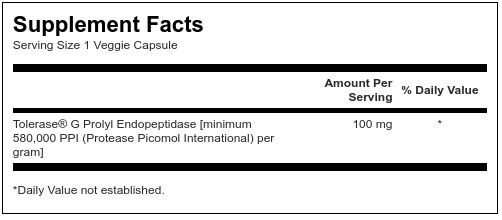 Suggested Use
As a dietary supplement, take one veggie capsule with water immediately before any meal that may contain gluten.
Warning
For adults only. Consult your healthcare provider before using this or any product if you are pregnant or nursing, taking medication or have a medical condition. Tolerase® G is not intended to replace a gluten-free diet. Tolerase® G is not intended to treat or prevent celiac disease. Keep out of reach of children. Do not use if seal is broken. Store in a cool, dry place.
Ingredients
Rice Extract • Hypromellose (Vegetable Capsule) • Maltodextrin • Calcium Laurate • Silica.