Swanson Sleep Essentials
Natural insomnia remedy featuring melatonin and specially selected herbs with relaxing and calming effects.
Benefits
Support restful, restorative sleep
May help promote relaxation and ease nervous tension
Promotes a feeling of calmness
Contains valerian root, chamomile flower powder, hops flower powder, skullcap herb powder, L-taurine and GABA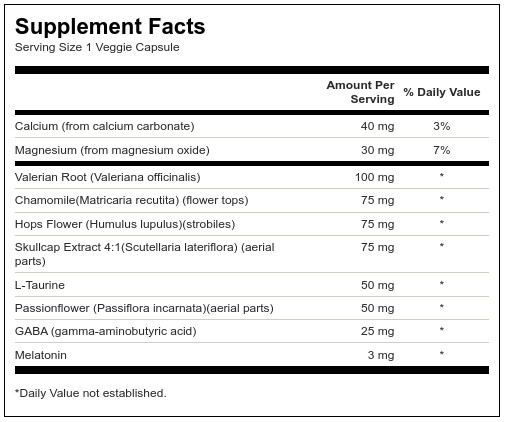 Suggested Use
As a dietary supplement, take one veggie capsule before bed with 8 ounces of water.
Warning
As melatonin may produce drowsiness, do not drive an automobile or operate heavy equipment after taking. Do not take this product if you are pregnant or nursing, have an autoimmune condition or a depressive disorder, or are under 16 years of age. Consult your healthcare provider before use if you are experiencing long-term sleep difficulties, have a medical condition or if you are taking any prescription medications.
Ingredients
Hypromellose (Vegetable Capsule) • Maltodextrin • Rice Flour • Calcium Laurate • Silica.
Country of origin
USA
Manufacturer
Swanson Health Products, 4075 40TH Ave S Fargo, ND, 58104-3912, USA