Swanson Full Spectrum Boswellia and Curcumin
Potent combination of joint-supporting boswellia and free radical-fighting curcumin.
Benefits
100% whole-herb Boswellia and Curcumin
Boosts joint health, movement and physical function
Offers antioxidant support to neutralize free radicals
Supports musculoskeletal health
Key ingredients
Boswellia and curcumin - support healthy activity of COX-2, an enzyme that regulates the production of chemicals that are involved in important biological processes throughout the body. They promote joint flexibility and function as well as healthy tissue.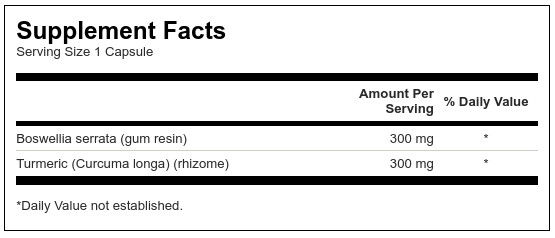 Suggested Use
As a dietary supplement, take one capsule per day with water.
Warning
For adults only. Consult your physician before using this or any product if you are pregnant or nursing, taking medication or have a medical condition. Keep out of reach of children. Do not use if seal is broken. Store in a cool, dry place.
Ingredients
Rice Flour • Gelatin • Magnesium Stearate • Silica.
Country of origin
USA
Manufacturer
Swanson Health Products, 4075 40TH Ave S Fargo, ND, 58104-3912, USA