Swanson Selenium L-Selenomethionine
Essential mineral that boosts antioxidant activity and heart, brain, immune and prostate health.
Benefits
Provides antioxidant support
Maintains cardiovascular, thyroid and immune health
Supports prostate health
Selenium provides vital protection for the heart, prostate, and many other organs and systems throughout the body
Selenium rduces inflammations, may help improve symptoms in people with asthma
This product can be taken against some of the following symptoms:

Viral infections
Bacterial infections
Flu
Cardiovascular diseases
Alzheimer's disease
Parkinson's disease
Thyroid gland diseases
Asthma
Breast, lung, colon and prostate cancer

The intake of his product brings the following health benefits:

Enhances the immune system's health
Promotes the immune response
Limits oxidative stress
Lowers the risk of some types of cancer, including breast, lung, colon and prostate cancer
Reduces the risk of heart diseases
Breast, lung, colon and prostate cancer
Improves brain function in people with cognitive impairment
200 capsules
300 capsules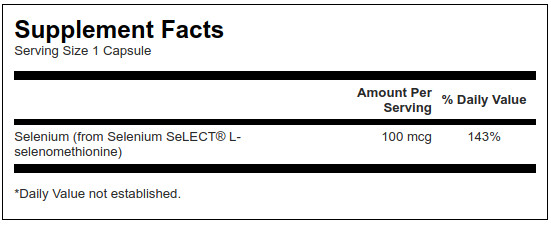 Suggested Use
As a dietary supplement, take one capsule one to two times per day with water.
Warning
For adults only. Consult your physician before using this or any product if you are pregnant or nursing, taking medication or have a medical condition. Keep out of reach of children. Do not use if seal is broken. Store in a cool, dry place.
Ingredients
Rice Flour • Gelatin.