Swanson Full Spectrum Amalaki Complex
Herbal complex for overall health.
Benefits
Exotic 7-herb blend
Antioxidant effects
Follows traditional Ayurvedic practices for overall health and wellness
This complex contains:

Antioxidant amla fruit (Amalaki) - 4:1 Extract
Turmeric - extract from root
Schizandra berry - for liver support
Basil - extract from leaf
Ginger - extract from root
Jujube fruit
Terminalia chebula Fruit extract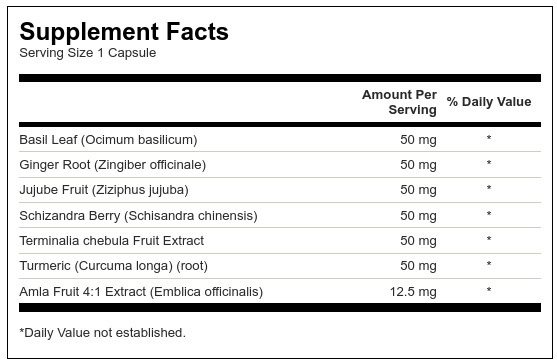 Suggested use
As a dietary supplement, take one capsule one to two times per day with water.
Warning
Do not take this product if you are pregnant or nursing.
Ingredients
Rice Flour • Gelatin • Magnesium Stearate • Silica.