Swanson DIM Complex (Diindolylmethane)
Best benefits of cruciferous vegetables.
Benefits
Ideal for all middle-aged men and women concerned about their health
Supports hormone balance for both men and women
Antioxidant and valuable phytonutrient
Supports proper estrogen metabolism
Supports prostate health
Key ingredient
BioDIM™ (DIM Complex) - DIM is the secret behind the health benefits derived from cruciferous vegetables like cabbage and broccoli. For men concerned about prostate health, and for women concerned about the array of effects resulting from midlife changes, BioDIM™ offers premier dietary support.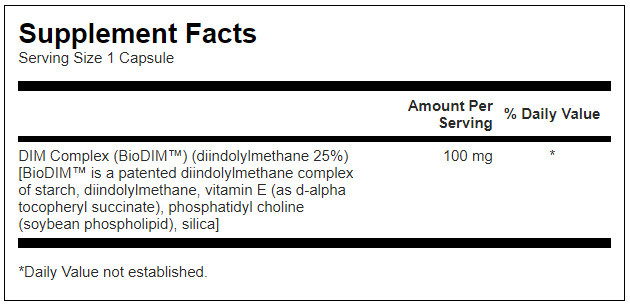 Suggested Use
As a dietary supplement, take one capsule one to three times per day with water before meals.
Warning
For adults only. This product should not be taken if you are pregnant, lactating or using oral contraceptives (birth control pills). May cause harmless changes in urine color. Consult your healthcare provider before using this or any product if you are taking medication or have a medical condition. Keep out of reach of children. Do not use if seal is broken. Store in a cool, dry place.
Ingredients
Calcium Carbonate • Gelatin • Titanium Dioxide • May Contain One Or Both Of The Following: Magnesium Stearate • Silica.