Swanson Rhodiola Ashwagandha Ginseng Complex
Nine adaptogenic herbs in one effective formula.
Benefits
Helps keep the body in balance
Supports a healthy, natural response to daily stress
Traditionally used to support healthy energy levels and a healthy mood
Protects organ systems
Combines nine of nature's most effective, time-tested herbal adaptogens from around the globe to protect and balance various organ systems, normalizing body functions that are affected by stress to promote optimal vitality

Rhodiola rosea Root
Ashwagandha
Korean Ginseng Root
Schisandra chinensis Fruis
Wolfberry Fruit
Reishi mushroom
Dong Quai Root
Atragalus Root
Suma Root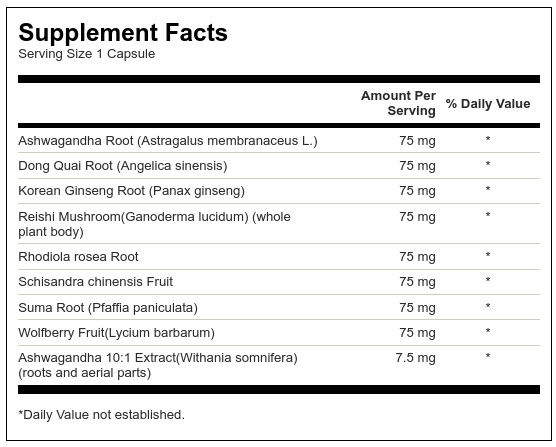 Suggested Use
As a dietary supplement, take one capsule one to two times per day with water.
Ingredients
Ingredients
Gelatin • Magnesium Stearate • Silica.
Storage
Store in dry place at room temperature. Do not store in direct sunlight or in the freeze.
Warning
Dietary supplement. Do not exceed the recommended daily dosage. It does not replace a varied and balanced diet and a healthy lifestyle. Keep out of reach of children. If you are pregnant, nursing, taking any medications, planning a surgical procedure, or have any medical conditions, consult your doctor before use. This product is not intended to diagnose, treat, cure or prevent any disease.
Country of origin
USA
Manufacturer
Swanson Health Products, 4075 40TH Ave S Fargo, ND, 58104-3912, USA