Swanson Curcumin C3 Reduct
The most cutting edge curcumin extract featuring patented Curcumin C3 Reduct®.
Benefits
The best antioxidant protection science and nature have to offer
Boosts antioxidant defenses
Curcumin C3 Reduct® -is a patented curcumin extract that delivers 95% tetrahydro-curcuminoids (THCs). As the major bioactive metabolites of curcuminoids, THCs have better bioavailability and greater physiological activity than their curcuminoid precursors. They also have higher stability at normal physiological pH levels, giving them longer-lasting antioxidant activity in the body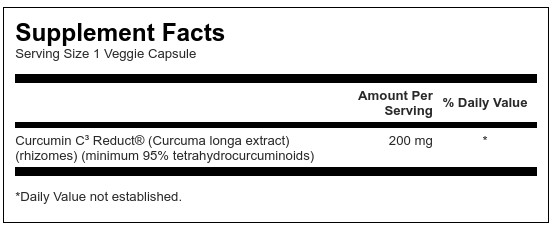 Suggested use
As a dietary supplement, take one veggie capsule two times per day with water.
Warning
For adults only. Do not take this product if you are pregnant or nursing. Consult your healthcare provider before use if you have or have had gallbladder problems. Discontinue use if you experience gastrointestinal discomfort. Keep out of reach of children. Do not use if seal is broken. Store in a cool, dry place.
Ingredients
Rice Extract • Hypromellose (Vegetable Capsule) • Calcium Palmitate • Silica.