Swanson Full-Spectrum Chinese Skullcap
It supports relaxation and is great for anyone that occasionally has trouble falling asleep.
Benefits
Powerfully calms the nerves
Helps you get a good night's sleep
Traditional Chinese herbalism
Promote healthy relaxation
A powerful agent to steady the nerves
Features four major flavonoids, one of which is baicalin, and this compound has been shown to have a protective action on the liver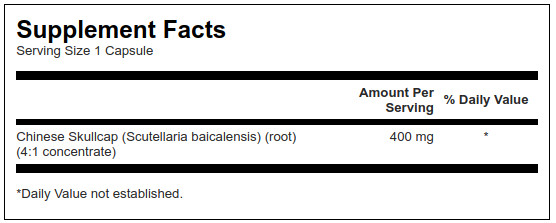 Suggested Use
As a dietary supplement, take one capsule two to three times per day with water.
Warning
Do not take this product if you are pregnant or nursing. Consult your healthcare provider before use if you are taking any prescription medications.
Ingredients
Rice Bran • Gelatin • Maltodextrin • Silica • Calcium Palmitate.