Swanson Super Stress B Complex
Promotes mental relaxation and help support a healthy response to daily stress.
Benefits
Each capsule combines a broad vitamin B spectrum
Has an antioxidant effect as it provides the powerful effect of the vitamin C
Specially formulated to replenish the nutrients lost during high-stress times
Supports a healthy metabolism and promotes energy
Supports serotonin production and brain function so you can stay resilient
May help keep immune function on the up-and-up
This vitamin B complex features crucial B vitamins like niacin, folate and B12 combined with immune-supporting vitamin C for a stress-busting immune support combination formula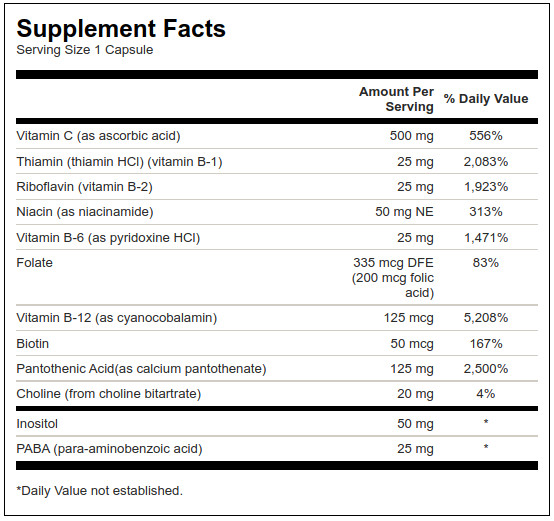 Suggested Use
As a dietary supplement, take one capsule one to two times per day with water.
Warning
For adults only. Consult your healthcare provider before using this or any product if you are pregnant or nursing, taking medication or have a medical condition. Keep out of reach of children. Do not use if seal is broken. Store in a cool, dry place.
Ingredients
Gelatin • Magnesium Stearate • Rice Flour • Silica.