Swanson Hyal-Joint Hyaluronic Acid Complex
Supplement for flexibility and comfort of your joints.
Benefits
Supports tissues throughout the body
Boosts joint health, movement and physical function
Supports connective tissue health including hair, cartilage and collagen
Support needed for smooth, comfortable motion
Our joints depend on a substance known as synovial fluid to lubricate. The primary component of this synovial fluid is hyaluronic acid.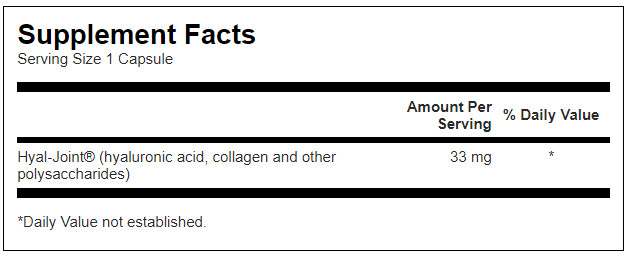 Suggested Use
As a dietary supplement, take one capsule one to two times per day with water.
Warning
For adults only. Consult your physician before using this or any product if you are pregnant or nursing, taking medication or have a medical condition. Keep out of reach of children. Do not use if seal is broken. Store in a cool, dry place.
Ingredients
Rice Flour • Gelatin • Stearic Acid • Magnesium Stearate.