Swanson Hawthorn & CoQ10
Hawthorn & CoQ10 for cellular energy and cardiovascular health.
Benefits
Features superpotent standardized hawthorn extract
Delivers broad-spectrum antioxidant nutrition
Supports cellular energy production
Key ingredients
Hawthorn - its leaves, fruits and flowers are used for various ailments and conditions in traditional medicine.

Hawthorn is used for heart and blood vessel conditions like congestive heart failure, high blood pressure, atherosclerosis, irregular heartbeat, and high cholesterol.
Some individuals find benefit in using the herb for digestive issues like diarrhea, indigestion and upset stomach.
The hawthorn plant contains a high degree of phytochemicals - tannins, flavonoids, proanthocyanidins, and phenolic acids that aid the heart in producing better contractions, lead to an enhanced propagation of nerve signals and widen blood vessels.
The proanthocyanidin content of hawthorn is found to be responsible for its blood pressure reducing effect, reduced cholesterol, levels of fat in the liver and aorta and has strong antioxidant effect.

Coenzyme Q10 - is an important molecule for cellular energy production – it aids the mitochondria, the energy producing organelles of the cells, to do their job efficiently and this in turn results in better cellular health.

Taking CoQ10 can decrease levels of oxidative stress in the body, decrease blood pressure, improve blood flow, improve blood vessel state and function, increase anti-oxidant enzymes in the body, and generally improve quality of life.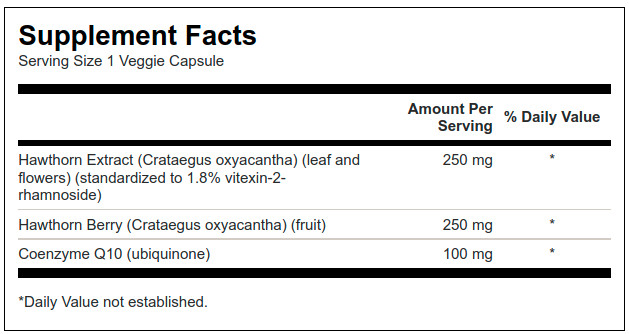 Suggested Use
As a dietary supplement, take one veggie capsule one to two times per day with food and water.
Warning
For adults only. Consult your physician before using this or any product if you are pregnant or nursing, taking medication or have a medical condition. Keep out of reach of children. Do not use if seal is broken. Store in a cool, dry place.
Ingredients
Hypromellose (Vegetable Capsule) • Microcrystalline Cellulose (Plant Fiber) • Maltodextrin • Magnesium Stearate • Silica.
Country of origin
USA
Manufacturer
Swanson Health Products, 4075 40TH Ave S Fargo, ND, 58104-3912, USA