Swanson Turmeric & Black Pepper
Antioxidant curcumin for support of digestion, circulation and joint health.
Benefits
Organic black pepper increases curcumin's bioavailability
Supports joint health, movement and physical function
Antioxidant support to neautralize free radicals
Key ingredients
Turmeric fortified with black pepper - for cardiovascular and liver health and to promote joint comfort and mobility. Turmeric contains unique phytochemicals known as curcuminoids, which have powerful antioxidant effects and boost the activity of the body's endogenous antioxidant enzymes
Suggested Use
As a dietary supplement, take one veggie capsule one to two times per day with water.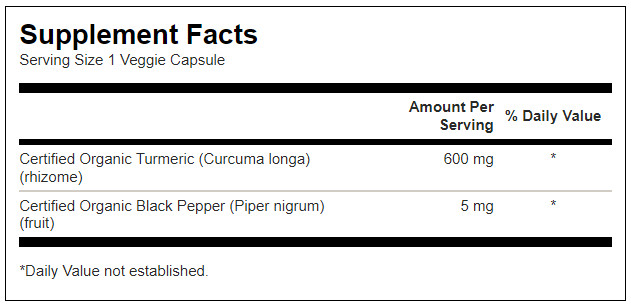 Ingredients
Ingredients
Hypromellose (Vegetarian Capsule) • Silicon Dioxide • Magnesium Salt Of Fatty Acids.
Storage
Store in dry place at room temperature. Do not store in direct sunlight or in the freeze.
Warning
Dietary supplement. Do not exceed the recommended daily dosage. It does not replace a varied and balanced diet and a healthy lifestyle. Keep out of reach of children. If you are pregnant, nursing, taking any medications, planning a surgical procedure, or have any medical conditions, consult your doctor before use. This product is not intended to diagnose, treat, cure or prevent any disease.
Country of origin
USA
Manufacturer
Swanson Health Products, 4075 40TH Ave S Fargo, ND, 58104-3912, USA