Swanson Zinc & C Lozenges
Potent antioxidant combo for your body's defenses.
Benefits
Fast-acting, great-tasting, naturally orange and lemon-flavored lozenges
Potent lozenges each deliver 25 mg of zinc and 100 mg of vitamin C
The antioxidant capabilities of zinc and vitamin C
For immune system support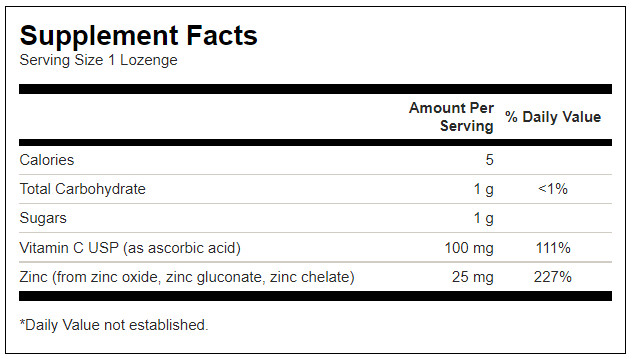 Suggested Use
As a dietary supplement, dissolve one lozenge in the mouth two times per day. If desired, both lozenges may be consumed at the same time. Taking zinc on an empty stomach may cause stomach upset in some people.
Ingredients
Fruit Juice Sweetener • Natural Orange Flavor • Stearic Acid • Magnesium Stearate • Natural Color (Annatto, Turmeric, Maltodextrin) • Natural Lemon Flavor.
Country of origin
USA
Manufacturer
Swanson Health Products, 4075 40TH Ave S Fargo, ND, 58104-3912, USA