Swanson Flush Free Niacin
Supports cardiovascular health.
Benefits
Eliminates the natural flushing effects of niacin
Promotes carbohydrate metabolism
Delivers all the cardiovascular benefits of regular niacin
Niacin, a special form of vitamin B-3 known as inositol hexaniacinate
Key ingredient
Niacin (Vitamin B3) - is widely distributed in food. You can find it in liver, lean and poultry meat, legumes, brewer's yeast, tuna, sunflower, peanuts, wheat germ, milk and dairy products, eggs or gourmet yeast. Niacin/vitamin B3 is a water-soluble vitamin. Contributes to:

Normal energy metabolism
Normal activities of the nervous system and mental activities
Maintaining normal mucous membranes and skin
Reduction of fatigue and exhaustion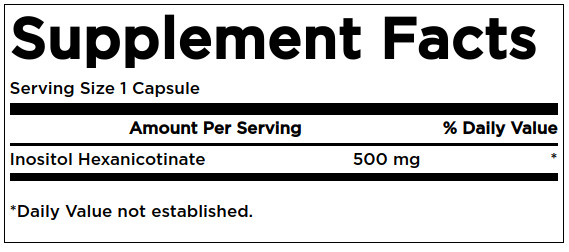 Suggested Use
As a dietary supplement, take one capsule three times per day with food and water.
Warning
For adults only. Consult your physician before using this or any product if you are pregnant or nursing, taking medication or have a medial control. Keep out of reach of children.
Ingredients
Rice Flour • Gelatin • Magnesium Stearate • Silica.
Country of origin
USA
Manufacturer
Swanson Health Products, 4075 40TH Ave S Fargo, ND, 58104-3912, USA