Life Extension Plant‐Based Multivitamin
Stay healthy with minerals & plant-derived vitamins without compromising your diet.
For you, if you want minerals and sustainably sourced vitamins perfect for plant-based diets.
Benefits
Offers a full array of essential vitamins plus minerals to complement a plant-based diet
Fights oxidative stress and support bone, heart, and brain health
Promotes cellular health and a healthy immune response (and more)
Delivers phytonutrient equivalent to three servings of vegetables and two servings of fruits
Plant-Based Multivitamin can help keeping your body healthy by providing health-promoting nutrients found in fruits and vegetables, providing 100% of the daily value of vitamins
Health benefits at a glance
If you are looking for a vegetarian multivitamin, the searching can stop here. Plant-Based Multivitamin was created for people who follow vegetarian and vegan diets.
This potent formula combines a healthy dose of minerals with sustainably sourced, plant-derived vitamins to provide the nutrients your body needs to keep you healthy — without compromising your food choices.
Supplement Facts
Serving size: 3 capsules, Servings per container: 30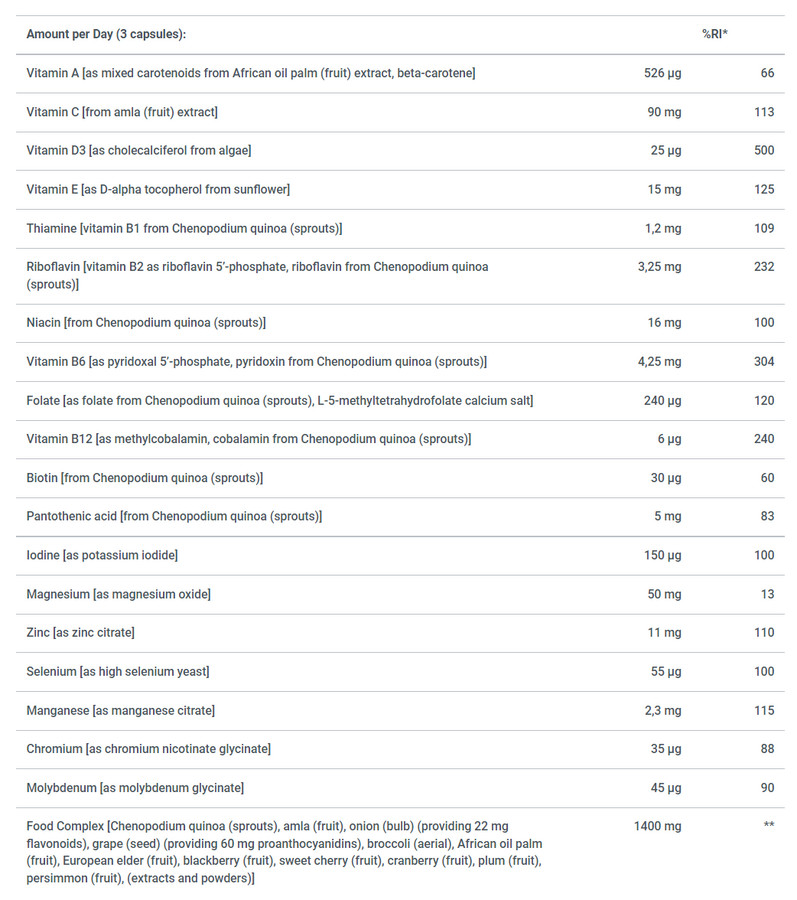 Dosage and use
Take three (3) capsules daily with food.
Ingredients
Ingredients
Quinoa Sprouts (Chenopodium Quinoa Willd.) • Capsule (Hydroxypropylmethylcellulose) • Ascorbic Acid (Vitamin C) • Bulking Agent (Microcrystalline Cellulose/cellulose Gel) • Onion Extract (Allium Cepa L.) • Magnesium Oxide • Grape Seed Extract (Vitis Vinifera L.) • Elderberry Fruit Powder (Sambucus Nigra) • Blackberry Fruit Powder (Rubus Fruticosus) • Blueberry Fruit Powder (Vaccinium Angustifolium) • Cherry Fruit Powder (Prunus Avium) • Cranberry Fruit Powder (Vaccinium Oxycoccos) • Prune Fruit Powder (Prunus Domestica) • Persimmon Fruit Powder (Diospyros Virginiana) • Broccoli Powder (Brassica Oleracea) • D-alpha Tocopherol (Vitamin E) • Selenium Enriched Yeast • Mixed Carotenoids • Zinc Citrate • Anti-caking Agents (Silicon Dioxide [nano], Magnesium Salts Of Fatty Acids) • Cholecalciferol (Vitamin D3) • Manganese Citrate • Beta-carotene • Potassium Iodide • Pyridoxal 5'-phosphate (Vitamin B6) • Riboflavin 5'-phosphate (Vitamin B2) • Molybdenum Glycinate Chelate • Chromium Nicotinate Glycinate Chelate • Calcium-l-methylfolate
Storage
Store in dry place at room temperature. Do not store in direct sunlight or in the freeze.
Notice
Individuals consuming more than 50 µg (2000 IU)/day of vitamin D (from diet and supplements) should periodically obtain a serum 25-hydroxy vitamin D measurement. Vitamin D supplementation is not recommended for individuals with high blood calcium levels.
Warning
Dietary supplement. Do not exceed the recommended daily dosage. It does not replace a varied and balanced diet and a healthy lifestyle. Keep out of reach of children. If you are pregnant, nursing, taking any medications, planning a surgical procedure, or have any medical conditions, consult your doctor before use. This product is not intended to diagnose, treat, cure or prevent any disease.
Country of origin
USA
Manufacturer
Quality Supplements and Vitamins, 3600 W Commercial Blvd Fort Lauderdale, FL, 33309-3338 USA