Show filter
Any questions?
Ask more

Peter Shooter
customer support specialist
+44 330 808 5845
At workdays: 8:00-16:30
info@pepe7.com
BALLS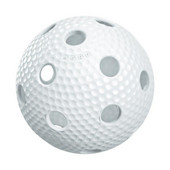 Salming Aero floorballs represent a revolutionary shift in the world of floorball equipment. This line of balls has been created by Salming to maximize performance and play fun. Every aspect of the Aero balls' construction has been designed with optimal performance in mind for players of all skill levels.
The first thing that catches your eye about the Salming Aero balls is their design and pattern. The innovative pattern allows the balls better stability in the air, accuracy and predictability of the trajectory. This is a key factor for the floorball game, where speed and ball control play a vital role.
More information