Tempish SUNNY LEOPARD
The solar collection was created for everyone who wants to have a good time in the summer. The attractive pleasing design and comfortable shoe is ideal for children and teenagers who want to have a good time or who want to start this sport. The shoe has a lower construction for looser control. The whole building is softer for really comfortable and fun skating and skate control - this also corresponds to the softer chassis setup with soft high-quality silencers made of PUC material with a hardness of 80A.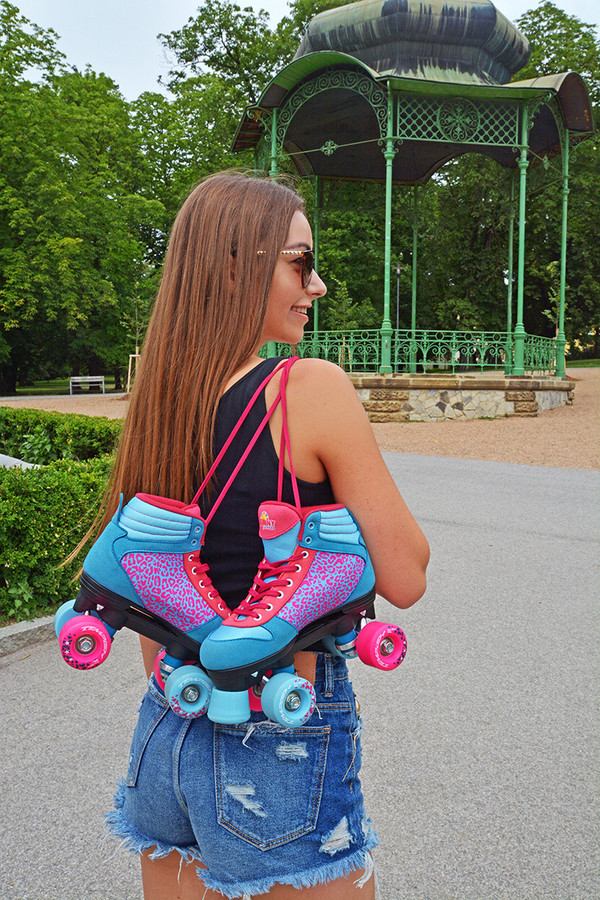 The shoe is made of a combination of genuine leather, PVC and woven fabric, decorated with embossed and classic printing and a plastic label with the TEMPISH logo. There is a soft bandage in the area of the ankles and Achilles tendon for greater comfort when skating. The skate is equipped with quality components: the chassis is made of AL alloy and the wheels in two colors are made of PUC material with a hardness of 85A. The attractiveness of the TEMPISH SUNNY LEOPARD model is enhanced by the modern turquoise-pink color combination. The black chassis underlines the robustness and durability of the skate.
Key properties:
Degree of load capacity of sports load: 2
Fastening system: Shoelaces
Skeleton: rather softer construction of the shoe, reinforced heel, material: genuine leather, PVC, mesh (woven fabric)
Inner material: velvet foam lining, reinforced in the ankle area for better comfort
In-line chassis: PP chassis, AL truck
Wheel type: QUAD PU HR, 54mm/85A
Bearings: ABEC 7 chrome steel
Brake: Yes