Powerslide Swell Stellar 110 Trinity
Powerslide SWELL Stellar 110 Performance Fitness inline skates for your skating workout. Upgrade comfort & control with the new Adapt Padding & TRINITY X mount.
The Powerslide Swell Stellar 110 is a revolutionary skate to power up your fitness training. Featuring MYFIT's patented 3DAP technology. The 3D Adapt padding is made out of cast polyurethane (PU) molded to perfection around your foot to deliver a level of control and comfort never experienced before on Inline skates. This revolutionary new way to manufacture skates out of a single material lets us design millimetrically where to add extra padding as well as include air channels for more breathability and improved cushion on ankles, tongue, and innersole. As a result, the Powerslide SWELL Stellar lets you save energy on every stride, reducing fatigue and boosting your performance without pressure points. Moreover, it reduces the vibrations from the road further saving your energy so you can train even longer.
We complete the skate with our TRINITY X mount system with Elite cast frames, made out of super-light magnesium, high-performance UC Raw white 110 wheels with UHR urethane, and Wicked freespin ABEC 9 chrome steel bearings.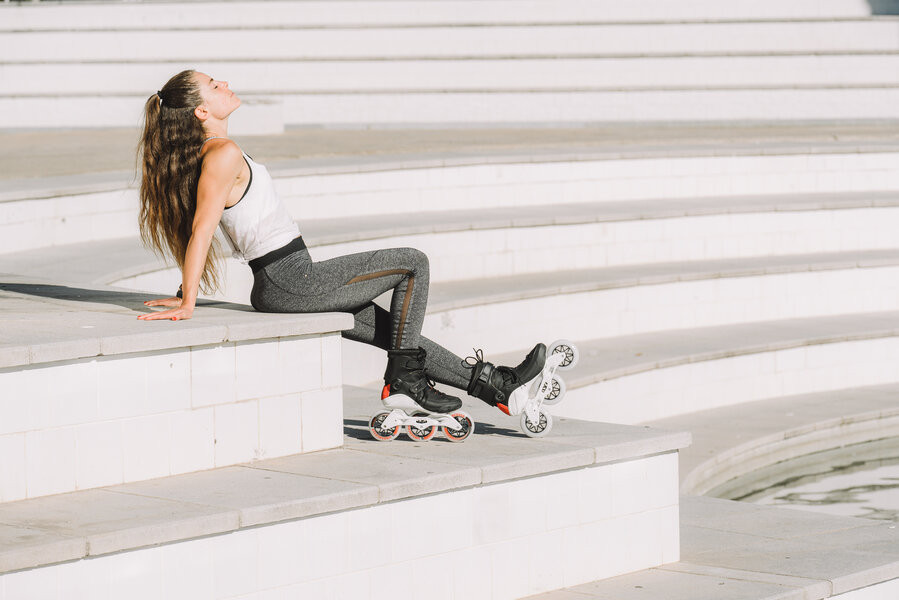 Key properties:
Boot Overview: Hybrid composite boot; hand lasted; TRINITY X 3-point mounting; built in liner with 3D Adapt padding made of cast polyurethane (PU); heat moldable MYFIT shell with 90°C
Frame Overview: Powerslide Elite; AM 60B magnesium; TRINITY 3-point mounting; 38-41 = 9.6" (243mm) / 42-47 = 10.6" (270mm); 3x110mm
Wheel Overview: Undercover Raw OEM; 110mm / 85A; UHR = Ultra High Rebound
Bearing Overview: Wicked; ABEC 9; chrome steel