Powerslide Phuzion Argon Cement 110 Trinity
Powerslide PHUZION Argon Berry 110 sportstyle fitness inline skates are made for those looking for comfort, TRINITY X mount performance & a '90s retro style.
Comfort and high-performance come together perfectly in the Phuzion Argon Berry 110 from POWERSLIDE. A fun, fast, comfortable inline fitness skate that gives you all the tools you need to push your limits.
This impressive inline fitness skate is designed with a '90s retro-sneaker style that's packed with advanced features. Starting with a light, rigid glass-fiber reinforced plastic shell and a strong, supportive cuff, the POWERSLIDE Phuzion Argon Berry 110 gives you excellent control and performance. Of course, this capable inline fitness skate is all about comfort thanks to the internal memory foam that molds to your foot, improving comfort, cushioning, and performance.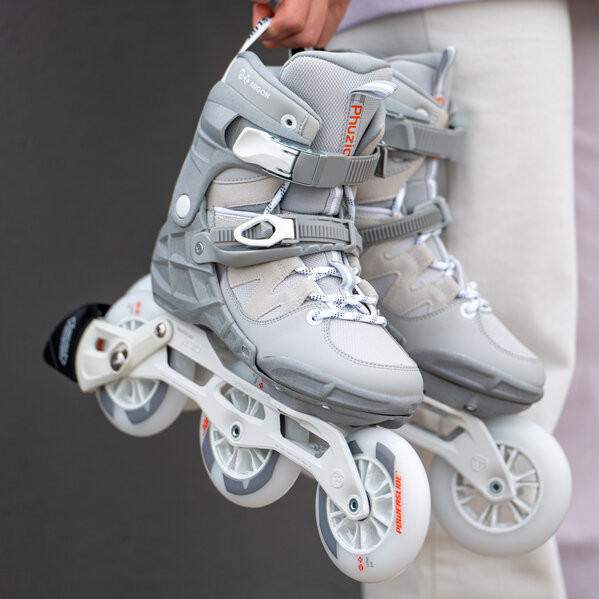 The Phuzion Argon Berry 110 is designed around the famous POWERSLIDE TRINITY 3-point mounting system that provides a low center of gravity that improves stability and power transfer while dampening vibrations. The TRINITY system also allows you to adjust your frame's position to augment your skating performance. Skate fast, skate hard, and skate far on the high-performance Phuzion Argon Berry 110 that comes with a light, strong aluminum frame riding on 3x110mm wheels and smooth WICKED bearings.
Key properties:
Boot Overview: Softboot; TRINITY X 3-point mounting; fixed liner with MYFIT Recall memory fit; not heat moldable
Frame Overview: Powerslide Elite; ADC10 aluminum; TRINITY 3-point mounting; 10.6" (270mm); 3x110mm
Bearing Overview: Wicked; ABEC 9; chrome steel balls; carbon steel race ways