Powerslide Phuzion Universe Green 3W / 4W
Powerslide Phuzion Universe Green size-adjustable kids inline skates for active children. Start skating with a comfortable, safe & easy to use skate.
Fast, fresh, and fun - the POWERSLIDE Phuzion Universe Green inline skate is the perfect skate for kids just getting onto the sport. The Phuzion Universe Green has a strong and light shell that can stand up to the bumps and falls.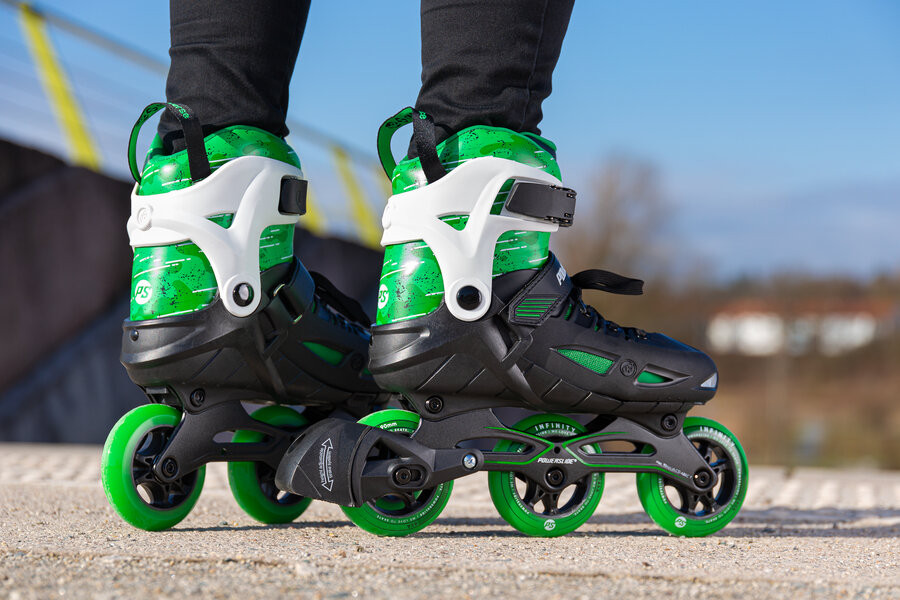 The POWERSLIDE Phuzion Universe Green is size adjustable so it can grow along with them. They'll have a comfortable, supportive, and capable inline skate for years to come.
With a cool-looking green colorway and all the features, you need in a high-quality kid-focused inline skate. Support is important for newbie inline skaters as they learn the basics, and the POWERSLIDE Phuzion Universe Green has a durable boot with a stable cuff that gives your kid all the support they need. Skates have to be comfortable, and this impressive kids' skate has a high-quality liner with plenty of padding.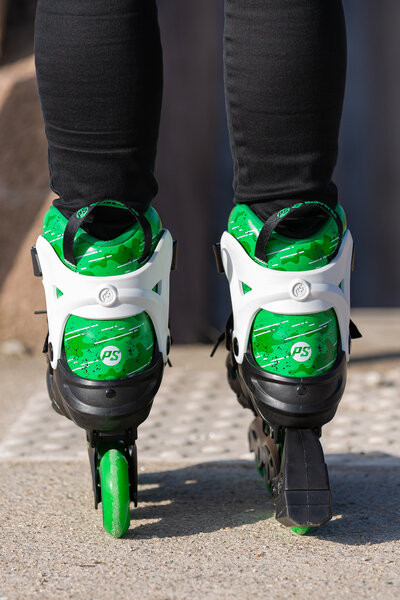 The rubber brake gives your child the control they need to stop with confidence. Complete with high-quality wheels and smooth and WICKED ABEC 7 bearings and there's nothing holding your child back from having a blast on inline skates.
This fast and fun kids' skate comes also with a 3-wheel set-up, making the skate lighter and easier to handle than traditional 4-wheels set-ups.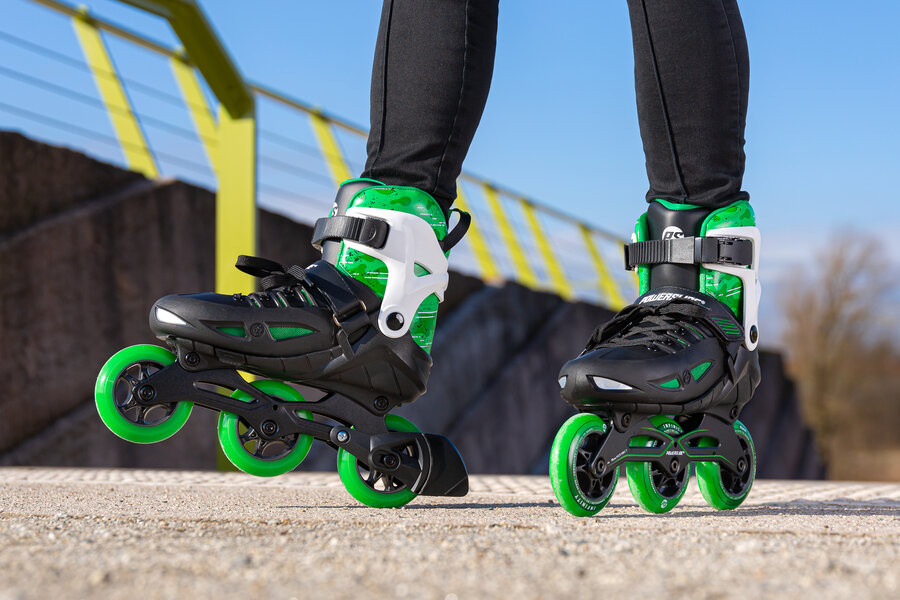 Key Features:
Skeleton: Glass-fiber reinforced plastic (GFRP) - GFK
Inner Boot: Hardboot; standard side mounting; fixed liner with EVA padding and expandable toe area; not heat moldable
Lacing: Velcro strap / Standard lacing
Frame 3W: Powerslide Cateye 3 wheels; 6063 aluminum; standard side mounting; 29-32 = 7.8" (198mm) / 33-36 = 8.3" (212mm) / 37-40 = 9.1" (231mm); 3x80mm / 3x84mm / 3x90mm
Frame 4W: Powerslide Cateye 4 wheels; 6063 aluminum; standard side mounting; 29-32 = 8.5" (215mm) / 33-36 = 9.3" (235mm) / 37-40 = 10.1" (258mm); 4x70mm / 4x76mm / 4x76mm
Wheels 3W: Powerslide Infinity; 80/84/90mm / 85A; HR= High Rebound, Cruising Comfort
Wheels 4W: Powerslide Infinity; 70/76mm / 82A; HR= High Rebound, Cruising Comfort
Bearings: Wicked; ABEC 7; carbon steel
Brake: included